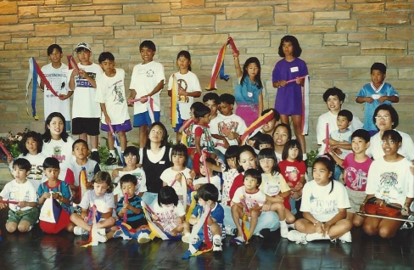 In 1996, a group of mothers with children adopted from the Philippines banded together to find ways for their children to learn about their birth culture. The mothers, led by Gail Pendergrast, linked up with Mencie Hairston of Mabuhay, Inc. who brought a group of volunteers to help with the first camp. Camp Mabuhay is an opportunity for families with children adopted from the Philippines to come together and immerse themselves in Filipino culture. For families, the most important benefit of Camp Mabuhay is its contribution to building the adopted child's self esteem. For an adoptee, "Who am I?" is a daily quest. One mother summed it aptly when she said, "It is doubly important for my children to be connected to their Filipino heritage because when they look at me and my husband, they can't see themselves."
Camp Mabuhay is a heart-to-heart partnership between the families and the Filipino American community in the DMV area. Mencie Hairston, one of the founders of Mabuhay, Inc., has rallied the Filam community in support of the Camp through the years. The community provides the cultural insights, volunteer workforce, as well as necessary funding. Volunteers are the backbone of the Camp. Youth volunteers from area high schools and colleges become ate or kuya while adult volunteers assume the roles of tita or tito. Campers and volunteers form bonds of friendships that endure long after the Camp is over.
To bring the Camp experience closer to the where the families lived, similar camps were started in Indiana and in Connecticut. Both camps also partnered with local Filam organizations — Barangay Club of Indiana, Philippine Nurses Association of Indiana, and Philippine American Association of Connecticut. (Both the Indiana and the Connecticut camps ceased operations when its campers aged out.) Camp Mabuhay underscores the need for Filipino adoptees and their families for meaningful and organized linkages with their local Filipino American communities. As a community, we share the responsibility of raising these adopted children anchored to their birth culture because they will always be seen as Filipino Americans first.